The 2023 National Deflection & Pre-Arrest Diversion Summit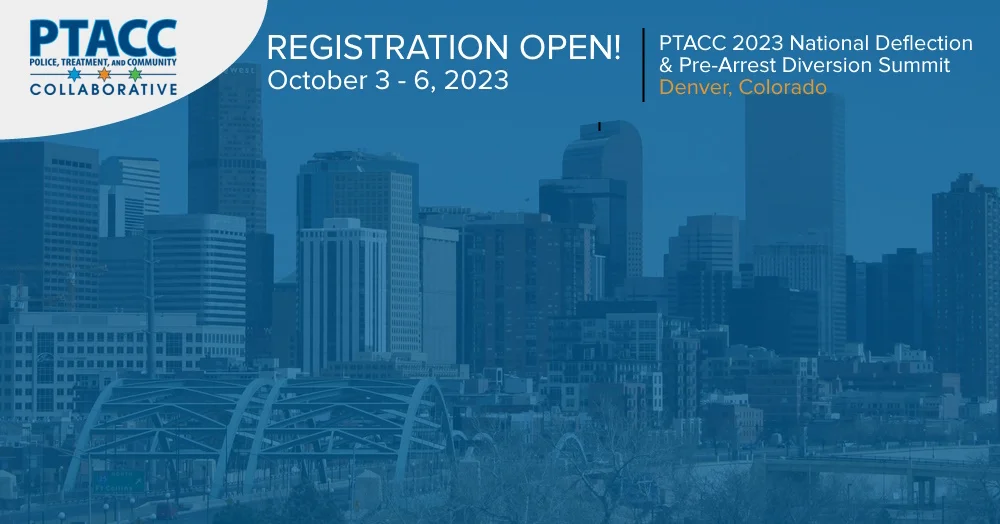 BREAKING NEWS: We have reached capacity for this year's summit and are closing registration. We look forward to seeing everyone in Denver!
We are excited to invite you to the 2023 Police, Treatment, and Community Collaborative's (PTACC) National Deflection and Pre-arrest Diversion Summit taking place from October 3 – 6 in beautiful Denver, Colorado! This is a one-of-a-kind opportunity to learn and network with peers in the field of deflection. Please note that this event WILL NOT be virtual.
On days one and two (October 3 – 4), attendees will be able to learn from and engage with experts and practitioners in the field through educational sessions. Presentations and panels will deliver the latest information and strategies relating to deflection and pre-arrest diversion nationally and internationally.
On days three and four (October 5 – 6), PTACC will provide one-on-one support to teams who are interested in developing, revising, and expanding deflection initiative action plans. New this year will be the addition of special sessions for those not partaking in action planning, including communities of practice, peer-to-peer networking, and deflection leadership meetings. More information on these sessions will be announced in the following months.
We invite you to register now to not miss out on any part of this year's Summit!
Also new to PTACC, this year's Summit will have a call for proposals for those interested in presenting! More information to follow.
For inquiries, contact PTACC at info@ptaccollaborative.org. Stay connected and in the loop on all things Summit by signing up for the weekly Ticker.
Below you'll find more information on PTACC's mission and history, as well as information on deflection and pre-arrest diversion.
To learn more about PTACC, click here.
To view PTACC's visual of the six deflection pathways, click here.
For more information on deflection and pre-arrest diversion, click here.